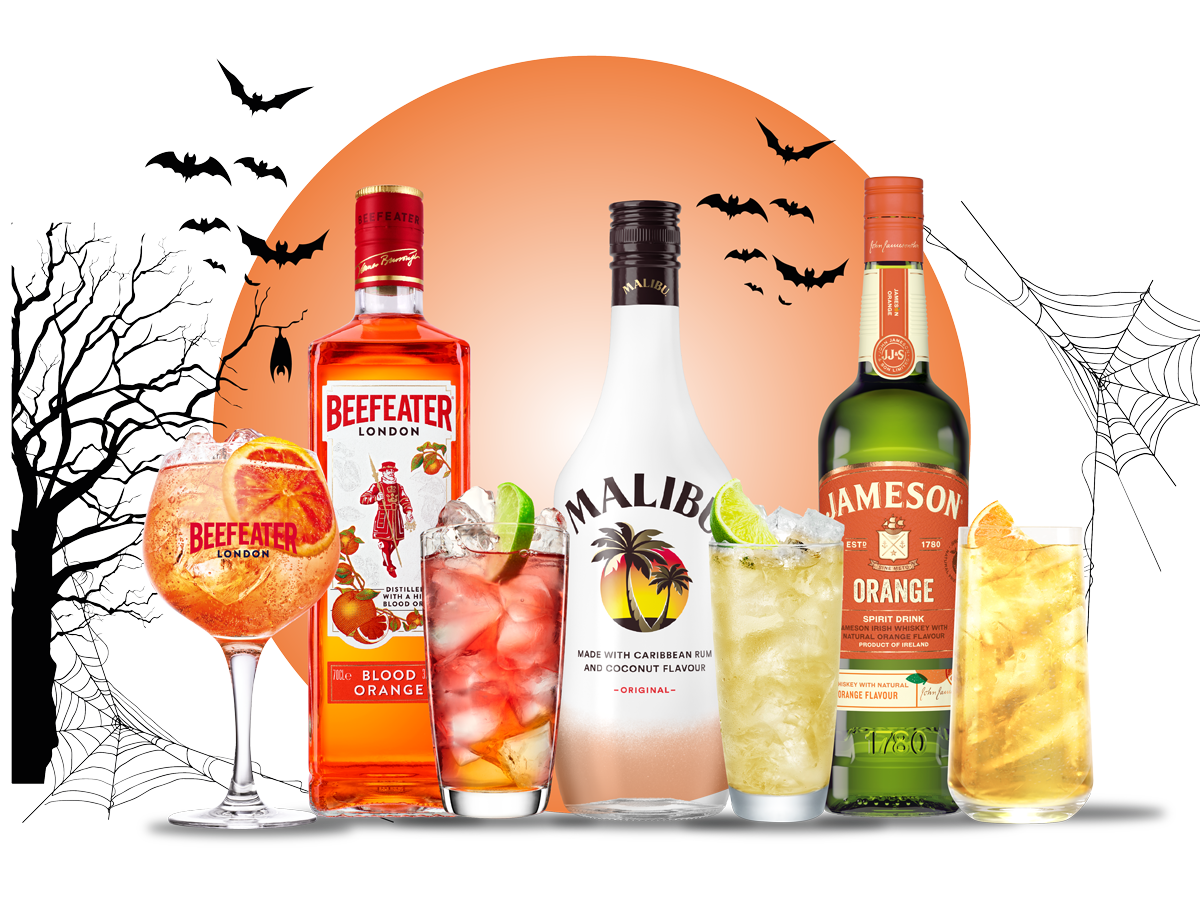 Sorry,
this activity has now ended. Keep an eye out for more events from these brands and Hungry Horse for opportunities in the future.
Competition Ts & Cs
Simply show the below barcode received via email at your chosen Hungry Horse venue and choose from Beefeater Blood Orange Spritz Dracula, Jameson Orange Bobbing, Malibu Pina Ghoulada or Maliboo for your FREE drink. Also redeemable on Spooky Mocktails!'
You can redeem your free drink at any participating Hungry Horse venue. Click here to view participating venues.
UK residents only. Age 18+. This voucher entitles you to 1 free drink of Beefeater Blood Orange Spritz Dracula (50ml Beefeater Blood Orange & 200ml lemonade), Jameson Orange Bobbing (50ml Jameson Orange and 200ml lemonade), Malibu Pina Ghoulada (50ml Malibu with 200ml pineapple juice) or Maliboo (50ml Malibu with 200ml cranberry juice) and may be claimed from 12.00 on 25/10/2021 until 22.00 on 31/10/21. UK (excluding Scotland)

Valid vouchers can be redeemed within participating Hungry Horse venues. Redemption code is limited to one free drink of Beefeater Blood Orange Spritz Dracula (50ml Beefeater Blood Orange & 200ml lemonade), Jameson Orange Bobbing (50ml Jameson Orange and 200ml lemonade), Malibu Pina Ghoulada (50ml Malibu with 200ml pineapple juice) or Maliboo (50ml Malibu with 200ml cranberry juice) per person throughout the promotional period
For full terms and conditions click here
(1)Your information may be used by Pernod Ricard UK and made available through us to any other entities of the Pernod Ricard Group to provide you with news and promotional information about Beefeater. At any time, you can exercise your right of access, rectification, deletion or objection by contacting us at ukconsumerfeedback@pernod-ricard.com. For further information, please consult our Online Privacy Policy.
(2)Your information may be used by Irish Distillers International Limited and its affiliates to provide you with news and promotional information about Jameson. At any time, you can exercise your right of access, rectification, erasure, restriction, portability, objection or withdraw your consent at any time without affecting the lawfulness of processing based on your consent before withdrawal by contacting us at idpr-privacy@pernod-ricard.com. You also have a right to lodge a complaint with the Supervisory Authority. For more information, please consult our Online Privacy Policy.
(3)Your information may be used by Pernod Ricard UK and made available through us to any other entities of the Pernod Ricard Group to provide you with news and promotional information about Malibu. At any time, you can exercise your right of access, rectification, deletion or objection by contacting us at ukconsumerfeedback@pernod-ricard.com. For further information, please consult our Online Privacy Policy.